Glendale Distracted Driving Accident Attorneys
Were You Hit by a Distracted Driver?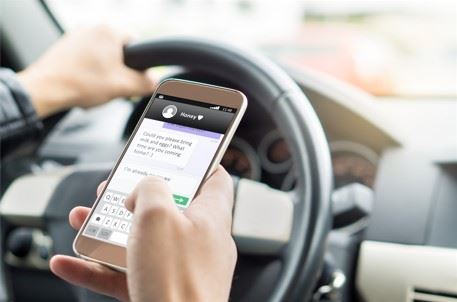 Distracted motorists are all over the roads in California and across the country. You cannot easily pick them out from a line of traffic, so you cannot always avoid them. If one of those distracted drivers blindsided you, do you know what to do now to get the compensation you need to move forward?
Let the Law Offices of Wax & Wax in Glendale be your legal guide during this confusing time. Our distracted driving accident attorneys in Glendale have a long history of taking complex cases and finding ways to win for our clients against all odds. We would be honored to get the chance to look into your case to figure out what happened, why the liability should be placed on the other driver, and how much compensation they ultimately owe you for your injuries.
Let's talk about your crash. Please dial (818) 946-0608 today.
On This Page:
Forms of Driver Distractions
Drivers need to always pay close attention to the road around them to keep themselves and other motorists safe. Unfortunately, there are dozens if not hundreds of potential driver distractions out there. Not all drivers will be able to ignore them and stay focused.
Common driver distractions include:
Smartphone notifications
Talking with a passenger
Reading roadside billboards
Eating or drinking
Self-grooming like applying makeup
Changing the radio or music app
All distractions can fall into one or more of these four categories:
Visual: A distraction that takes the driver's eyes off the road and mirrors is a visual distraction.
Manual: A distraction that takes the driver's hands off the steering wheel is a manual distraction.
Auditory: A distraction that makes it harder for the driver to hear the noises of the road is an auditory distraction.
Cognitive: A distraction that makes it harder for the driver to concentrate is a cognitive distraction.
Texting & Driving is Especially Dangerous
In recent years, many distracted driving accidents have been able to be traced back to smartphone use behind the wheel. Specifically, text messaging or direct messaging while driving is extremely distracting and dangerous. But why?
Texting and driving is so dangerous because it engages three forms of driver distractions all at once: visual, manual, and cognitive. The driver must pick up the phone to read the text message, which they then think about. When thinking of a text that was just read, most drivers will continue to think about that text for up to 30 seconds, too, meaning the cognitive distraction is even worse than it initially seems.
Can You Prove the Other Driver was Distracted?
Proving that the other driver was distracted is a challenge. They will certainly deny that they were doing anything wrong because they know that any admittance of wrongdoing will put the liability on them. You cannot hope that they will admit they were on the phone.
Instead, it will take some investigating to get to the bottom of your accident. Our distracted driving accident lawyers in Glendale can help by reviewing eyewitness statements and testimonies from the other driver. We might be able to show that they were on their phone or engaging in some sort of other distraction by more than just word of mouth.
Protect Your Future – Call Us Now
To take care of your distracted driving accident claim in Glendale, look no further than our law firm. Our Glendale distracted driving accident lawyers are standing by to help you sort out the legal aftermath of your crash. From the moment we are on your side, we are dedicated to getting you the most compensation possible!
Dial (818) 946-0608 or contact us online. We can't wait to hear from you.
Real People, Real Stories